It's finally time for humanity to take the next great leap into the great beyond.  We are natural explorers, and the time to explore a new frontier is now.  Humans will soon go beyond the Moon, and we will venture there on the Orion Capsule, powered by the sails of the Delta IV rocket.
You may have seen some of my other posts about it, or an old infographic of the flight procedure.

The launch window is opening at 7:05 am EST today!  It will have a 2 hour – 39 minute launch window. But if the weather is clear it will go right away!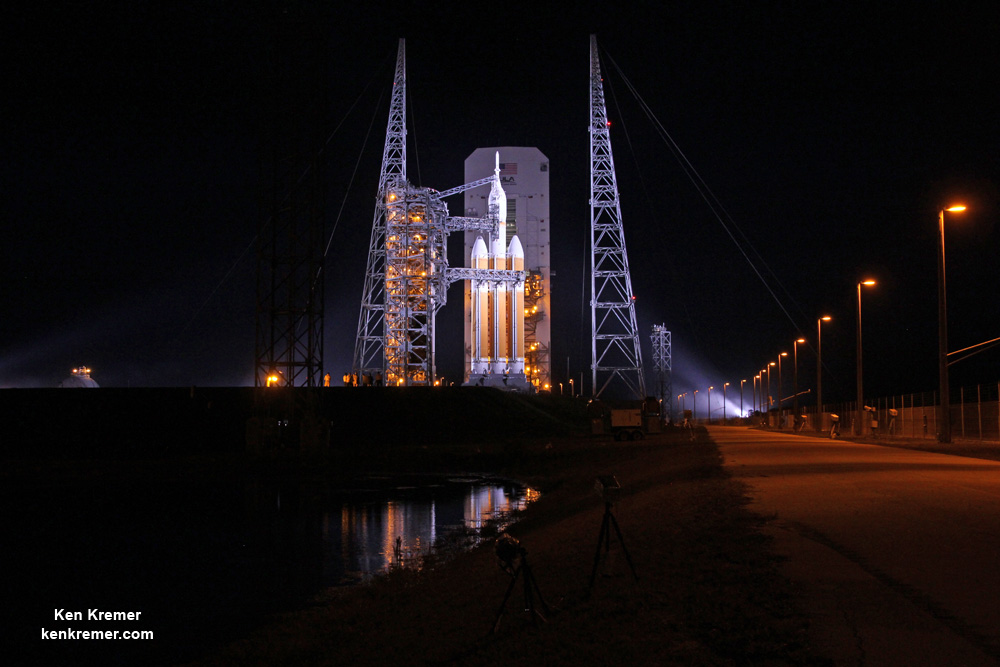 UPDATE 7:15am EST: T-MINUS 7 MINUTES! WATCH NOW!
UPDATE 11:55am EST: The launch was scrubbed for today due to an issue with the fill and drain valves on the Delta IV rocket.  I was off to do planetarium shows and left right as the issue was occurring and they stopped the countdown around 7:20am EST.  A 12 noon briefing will fill in the details and I will update the post accordingly.
UPDATE 12:30pm EST: Everything looks good for the launch window tomorrow morning.  If the weather remains calm and all systems are functioning properly, the launch should go ahead as planned.  There is actually a 60% no go possibility because of high winds, but the wind direction is more favourable.  There was an issue with a boat heading into the off-limits zone this morning, similar to the issue with the Antares almost-launch (the day before the explosion) a few weeks ago.  NASA officials maintain that this did not affect the outcome of the launch today.
If the launch does not happen by Sunday, NASA will have to reschedule Navy recovery operations off the west coast of the USA.
UPDATE 12:57pm EST: Here's a cool pic I found that sums up the Orion capsule and how it differs from Apollo.