Earlier this month, my parents rented a cottage on Manitoulin Island, the largest fresh water island in the world.  On the great lake Huron, it's a place I visited every year during my youth, as my grandparents had a cottage up there where we would come and visit each summer.  I was lucky to bring Kate up to enjoy a place she had never seen, and get away from the bustling sprawl of Toronto.
We only had four days, so we had to cram it in to make the most of it.  This seems to be the story of our vacation life lately, fitting as much as possible into small amounts of time.  But we always make the best of it.  We woke up at 5am to get on the road for our 7 hour drive to Providence Bay, on the south coast of the island.  After driving out to the East Coast, the drive to Manitoulin was a breeze.  We flew through Parry Sound, Sudbury, Espanola, and over the Swing Bridge at Little Current to get to the Island.
We stayed in a small cabin not far from the beach at Providence Bay, a place I haven't seen since I was seventeen, 12 years ago.
We took it easy for the rest of the day, since we had taken a long drive and an early morning to get to the island, but got up early the next morning to get out for a hike on the famous Cup and Saucer trail.  The trail takes you along two solid vertical climbs and up to the highest point on the island.  The amazing thing is that the cup and saucer is part of the Niagara Escarpment, a huge line of elevated rocks carved out by a receding glacier tens of thousands of years ago.
The hike took us a couple of hours, since we didn't do the entire trail.  But we did get up to the lookout points.  With no safety fences or anything, the lookout has a solid 300 foot drop straight down.  Kate scared the bejesus out of me by hanging her legs off the edge, and suddenly I remembered my old familiar fear of heights.
We came back and made the trip out to Mindemoya, which is where my grandparents used to have their cottage.  We swam in the lake, which was a lot shallower than I remembered, but it felt so nice.  That night we had a campfire and a BBQ and a few too many beers.  It was a perfect day if I recall!
Kate and I also managed to run a lot during our time up north.  We had a couple of good runs along the boardwalk that runs along the entire Providence Bay.  It was gorgeous to run close to sunset, and the fresh air up there gives me so much energy.
 The next day was a big driving day.  We managed to see the Kagawong falls, a place I hadn't been since I was a teenager.  The pathway down to the waterfall was cleaned up a lot, and the rickety deadly wood steps were replaced with metal and a railing, much safer.  Lots of people were there swimming, and we snagged a couple of good photos before heading into the town of Kagawong for a visit to the sweet shop.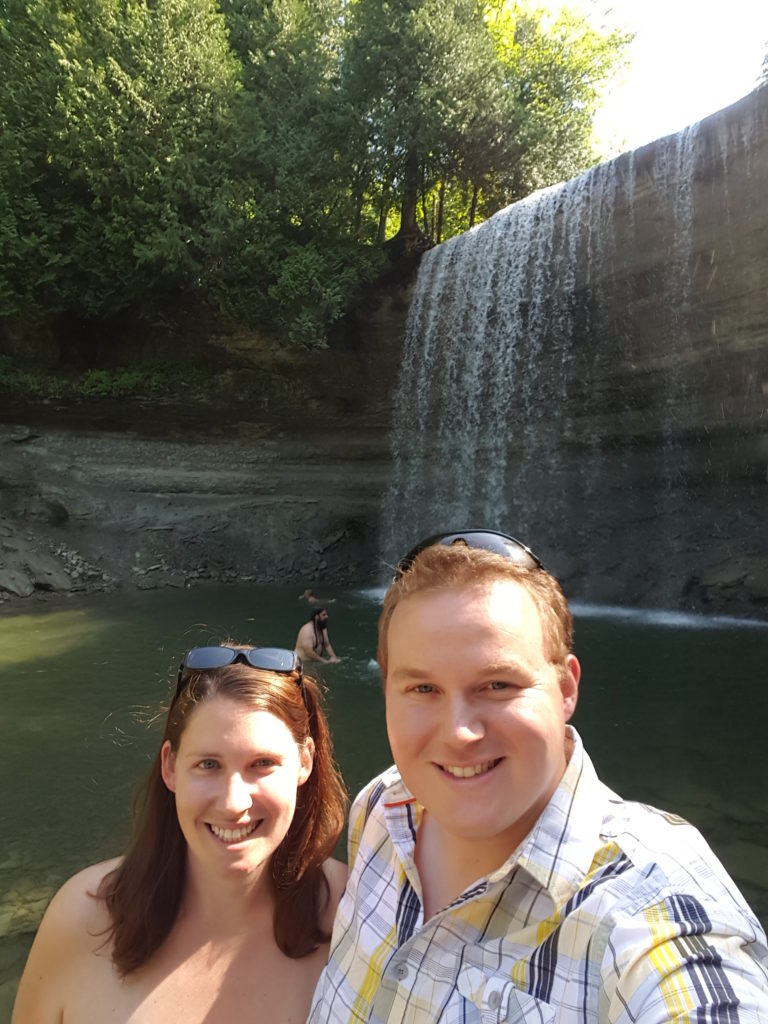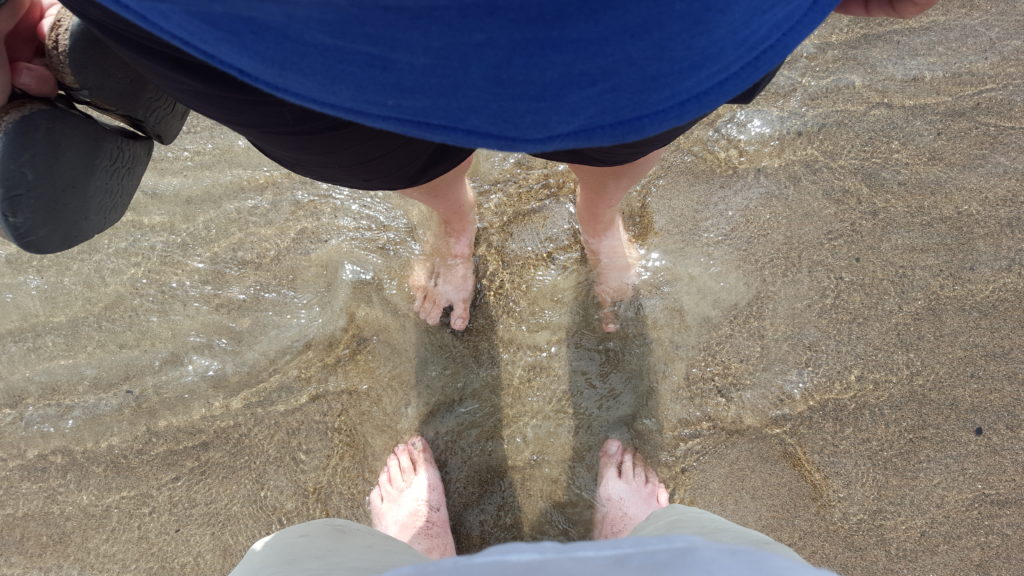 We drove all around the eastern part of the island that day, through Gore Bay, a quick tour, and all around through Spring Bay (The island has a lot of Bays).  In the evening we went for some ice cream and then waited an hour for some delicious fish and chips that just can't be beat.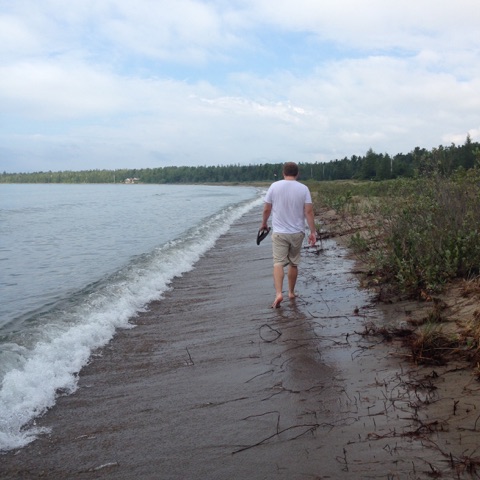 That night was the meteor shower, and what an event it was! We saw at least 80 per hour, and some were brilliantly bright coming across the sky from north to south.  I snapped a lot of photos of stars, and got some nice shots, but didn't manage to capture any meteors in my pictures….darn.  More on that in the astrophotography post for the trip.  It was cold that night and so we didn't stay out much past 2am, but I was happy with the photos I took and the meteors I saw.  It was a perfect night.
The next morning was our last, and Mom and Dad left early on their long drive home.  We stuck around for a bit since we were taking the ferry home, supposedly reducing our travel time.  We drive to the boat for 1pm, and managed to relax and have a nice lunch before the ferry arrived.  The Chi-Chee-maun ferry was refurbished this past year, and it was gorgeous to see again.  The strange weather meant a lot of fog, and I captured a video of the ferry emerging from the fog like a ghost ship.  Too cool.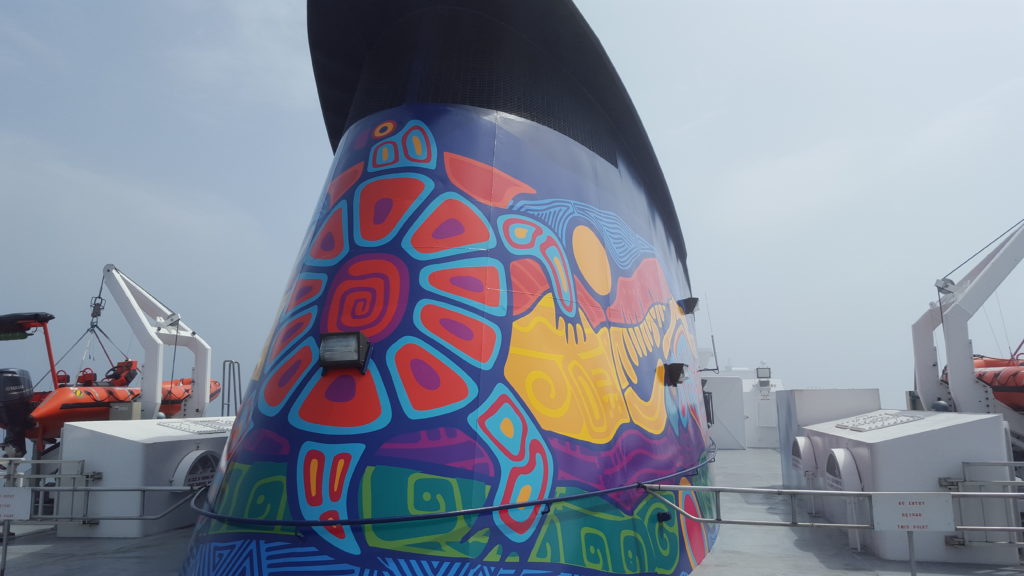 We managed to grab a couple of muskoka chairs on the top of the ship, and ended up spending most of the ferry ride in comfort, high up above the lake water as we watched the fog roll in all directions.  This would lead to a bad sunburn, but I wouldn't feel it until the next day.  Once we arrived in Tobermory we spent some time at a local brew pub and made a stop at the liquor store for some local craft brews.  The beer was good but overpriced, so we went in search of cheaper food and ended up splitting some yummy fish and chips.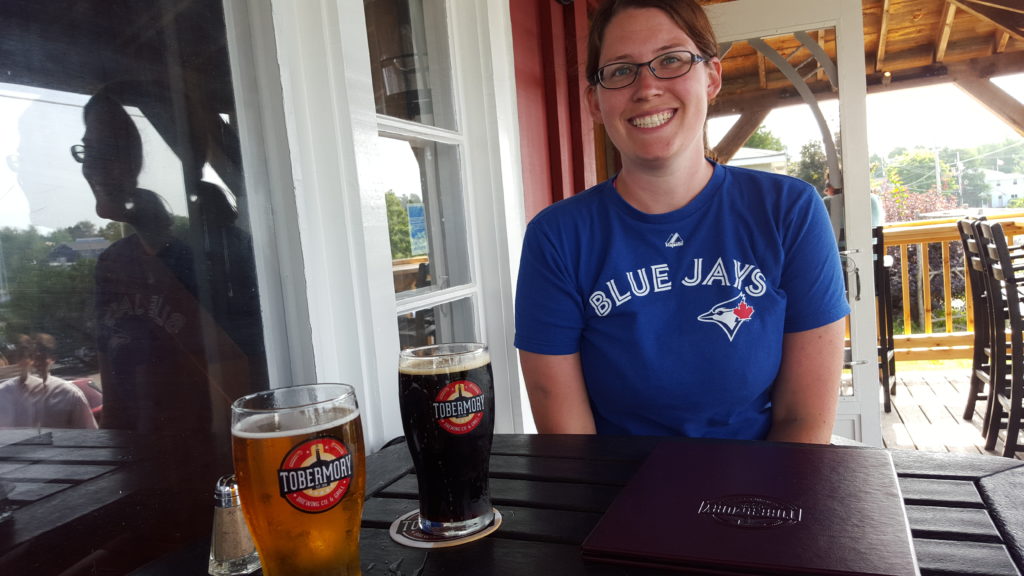 The rest of the drive home was long and uneventful, the down side of southern Ontario.  But we finally made it home and were happy to sleep after a long day of adventures.  The trip was fantastic.
I will always love going back to Manitoulin, and as an adult I feel I have a lot of new things to see that I missed in my youth.  I certainly have a lot more astrophotography sessions ahead of me, and as long as Kate is with me, I have a lot to look forward to.