Over the next week or so I'll be posting highlights of my summer trip to Canada's maritime provinces with my girlfriend Kate.  We had a blast, and love to have adventures and experiences in new places.  This is our story of the things we did and what we thought of them.
Today is Day 7, our last day! And the second of two guest posts from Kate!
This is the home stretch!
Today, we drove from Fredericton, New Brunswick, to Brockville, Ontario, so we were up early!  Our mission was to be packed up at the dorm by 7:00 ADT, which was when the residence was staffed for us to check out.  It was also when the shared kitchen opened.
The student at the desk was the same one from last night.  I felt kind of bad for him.  Fredericton is not the most happening town in Canada, and he was working alone until 11pm the night before too.  The student directed us to the kitchen on the second floor, and it was definitely a throwback to our respective days as undergrads in the early 2000's.  The kitchen was larger than ours, but it was as clean as you would expect for a bunch of eighteen year olds using it – except that it wasn't eighteen year olds using it.  The residence is converted into hotel/conference lodging during the summer months.  I'm grateful that all we needed the kitchen for was toasting bagels.  We ended up eating in the car because there were no knives in the kitchen to spread our peanut butter.  I enjoyed my residence days, but definitely not the part where everyone had different cleaning standards.
Then the long drive began.  We had all kinds of weather on Sunday!  In a span of eleven hours and three provinces, we had rain, hail, heat and humidity.  It was a frigid 12 degrees in Riviere-du-Loup, Québec (I'm glad I had my hoodie out!), compared with 28 degrees (and feeling like 36!) in Toronto under the blazing sun.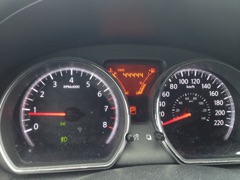 The drive through New Brunswick was pretty uneventful.  It drizzled as we traversed through the province of rocks and trees.  We decided to stop for lunch in Québec at a Tim Hortons.  As we parked, we realized that we'd crossed the time zone, and that it was 11:30 EDT, compared with 12:30 ADT.  As lovers of Tim Hortons' breakfast, this was a key part of the drive, as we got to have second breakfast.  I'm not fully bilingual, but my français is passable enough to converse in.  Usually.  Ryan was tired, and asked for me to order for him, which was fine, but I couldn't think of how to say "steeped tea" in French for the life of me.  Fortunately, the cashier was super patient and we eventually got it sorted out.  I will never forget how to say it again, since he wrote it on my cup.  Thé infuse.   And it was delicious!
Ryan did the next leg of the drive.  The rain ceased, and the sun made a bold appearance in the sky.  When we stopped in Mont-Saint-Hilaire, Québec for more thé infuse and coffee, it was gross outside.  I've definitely been grateful for air conditioning in my car, Marge!  La Belle Province wasn't that exciting to drive through today either.  I love driving, but by the end of a vacation, you just want to be home, and sleeping in your own bed.
By the time we passed the Ontario border, I was strongly considering skipping our destination for the night and just driving the extra four hours home.  Either way, we needed to stop in Brockville for gas and dinner.  By the time we arrived at my friend Tom's home, it felt really good to stretch.  Tom offered us a drink, and I think it may have been the best beer on the trip at that point (at least in the moment!)  Tom took us to a local Thai restaurant for dinner, and we caught up on life during the evening.  Good company and a comfy sofa are always better than cottage country traffic.  The shower I took before bed felt fantastic after being in the car all day too.
We're almost home after our long journey.  I miss our babies.  I miss our own bed.  But I've had the best time on the east coast!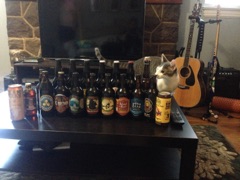 Final Notes from Ryan:
We had a blast on this trip, what an adventure!  I wrote down a few interesting tidbits from our trip.
NB and PEI roads sucked.
We saw license plates from all ten provinces and one territory Nunavut.
We didn't bring a beer opener or a swiss army knife all trip so I had to do a lot of improvising to get beers open.  I used the sides of picnic tables, rocks, and even a desk handle at St. Thomas U.
Timmys was our saviour for coffee, donuts, and last minute breakfasts.
Beer and groceries are more expensive, gas is about the same, but eating out is cheaper.
New Brunswick is basically just trees and roads, with a few hills and rocks thrown in, and occasionally a river.
Strange how much the maritimes remind us of northern Ontario, so it didn't feel too much different from being home, which was nice.
PEI is gorgeous but riddled with cemeteries.
Google maps has failed us in terms of navigation, and some highway merges just plain suck in the maritimes.
It was nice to have a real map for our time in NS.
Drivers are a lot more considerate in the maritimes.
People have east coast accents.
My time here makes me realize how shitty of a place Toronto can be sometimes.  We will definitely come back in the future.