Today is the day that one year ago that I sat down and decided I wanted to improve my writing skills.  I decided I wanted to keep up with the latest news in the world of astronomy and space science.  I decided I wanted to learn astrophotography and renew my passion for astronomy, a passion I have had since I was 6 years old.  I decided I would write an article every day, or at least post something.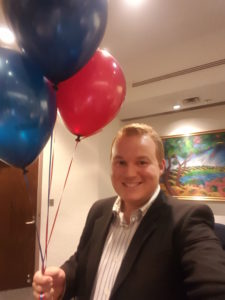 And even though I didn't write a post every 24 hours, due to vacations, family events, and life getting in the way, I made sure to write an extra post for any days I missed.  In 365 days, I ended up with 365 posts about astronomy, space, life, motivation, astrophotography, goals, and other fun adventures.
In this year I've learned about blogging and what people want to read. I've learned how to structure my writing, and to properly quote and reference images I get from all corners of the internet.  I still have a lot to learn about writing, but I've got the time.  I'm okay with taking ten years of daily blog posts to get good at it, and someday I hope to release a book.  I'm not sure what it will be about, but you can bet there will be some sort of space theme.
As I start my second year, I hope to improve my writing style and skills, and get more feedback this year.  I also want to edit my posts a bit more and ensure I do at least one longer and more complete write-up per week.  If I end up with a good, edited, clean article once a week, I'll be happy.
So with that, this marks post number 366.  Thanks for coming along for the ride with me.